Sounding Spirit publishes annotated facsimile editions that illustrate the significance of sacred songbooks to American musical history and practice. The series features five volumes of southern sacred vernacular music books published between 1850 and 1925 that highlight music-making's relationship to race, place, religion, and modernity. Each volume represents periods, places, and genres key to illustrating the importance of vernacular songbooks to the history and practice of American sacred music. The editions feature Black and white gospel songs, spirituals, Native hymnody, and shape-note singing traditions.
Sounding Spirit pioneers a unique approach to scholarly editing that pairs digital innovation with rigorous research. Each Sounding Spirit edition includes an introduction, page-level annotations that speak to the significance of elements of tunes and texts, and data visualizations or multimedia that contextualize detail of the work's construction, circulation, and use in cultural context. Editions are published in digital and print form by the University of North Carolina Press and the Emory Center for Digital Scholarship.
Sounding Spirit's scholarly editions are supported by a grant from the National Endowment for the Humanities Scholarly Editions and Scholarly Translations program (RQ-260871-18). Volumes are edited by genre specialists whose work is supported by the Sounding Spirit project team.
The Cherokee Singing Book
The Cherokee Singing Book (1846)
Edited by Sara Snyder Hopkins
With Tom Belt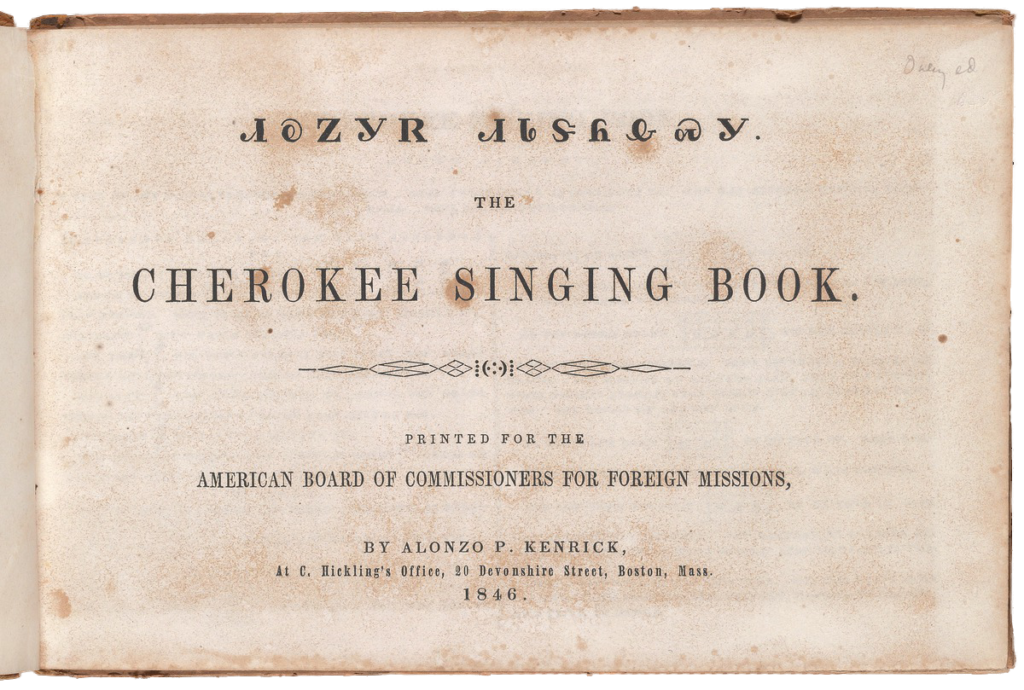 The Cherokee Singing Book was published in a single thousand-copy run in 1846 for use by Cherokee churches in what is present day Oklahoma. The Singing Book was translated by white missionary Samuel Worcestor and Cherokee Christian convert Stephen Foreman. Worcestor corresponded with Boston composer and music educator Lowell Mason throughout the development of the project, ultimately including a selection of vocal music associated with the musical reform movement that Mason championed. The Singing Book contains the only music primer published in the Cherokee language followed by several dozen hymns translated from English into Cherokee set to these reform style four-part songs. Never reprinted, the only remaining original copies are housed in a handful of archives.The Singing Book is a product of the post-contact and post-Removal (1838, Trail of Tears) period during which missionaries and indigenous Christians undertook intense "civilizing" and "Christianizing" efforts throughout the Cherokee Nation.
Featured in Sounding Spirit to illuminate the historical disenfranchisement, displacement, and wide-scale social upheaval happening in the Cherokee Nation, this edition will explore the relationship between indigenous experience and colonizing American musical practices. The emphasis on indigenous language, music, and worldview de-centers readings of American hymnody that privilege white, urban, and Protestant traditions. In addition to the Singing Book's historical significance, a reprint of the book will aid Cherokee language revitalization efforts. To facilitate this particular use, the edition will include both annotations and a full digital interlinear translation of the text by Tom Belt and Sara Snyder Hopkins. A translation of the text will make it accessible to those who do not speak Cherokee, but more importantly, it will serve scholars and Cherokee community members engaged in Cherokee language revitalization in both Cherokee, North Carolina, and Oklahoma.
The Story of the Jubilee Singers with their Songs
The Story of the Jubilee Singers with their Songs (1875)
Editor to be determined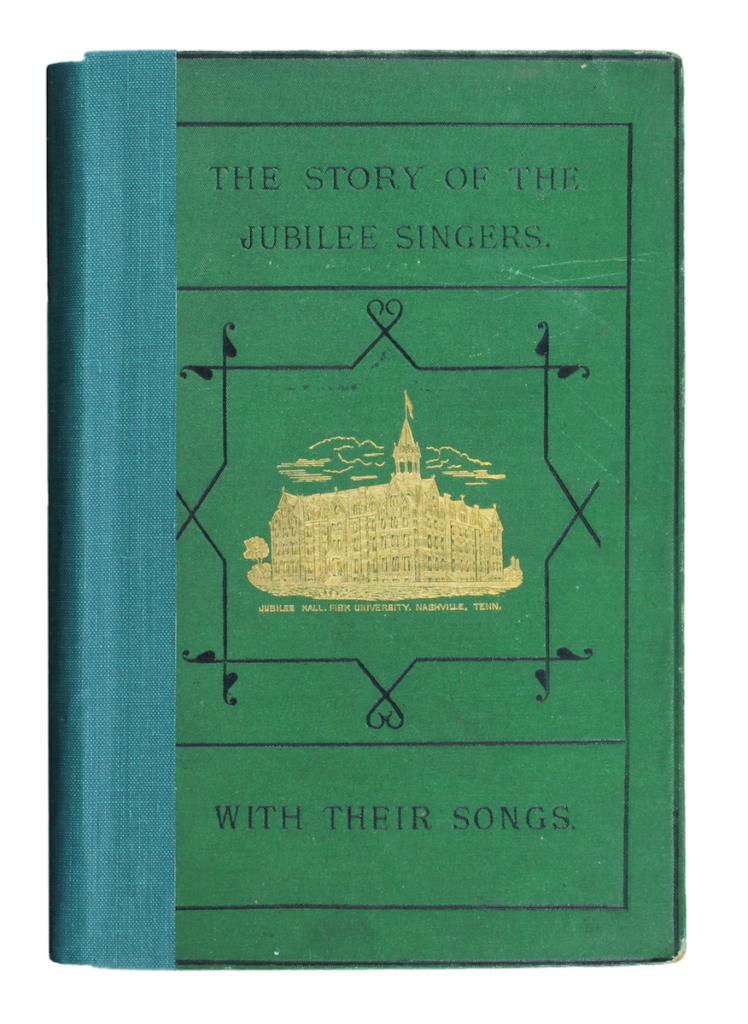 J. B. T. Marsh's The Story of the Jubilee Singers with their Songs (1875) is a significant early edition of the pioneering compilation of spirituals sung by the Fisk Jubilee Singers first published as Jubilee Songs (1872). Marsh's 1875 edition was the first to include spirituals transcribed by Jubilee singer, accompanist, and assistant director Ella Sheppard. Printed after competing ensembles began mimicking the Fisk Singers' sounds and strategies, this edition's contents reflect the presence of the Hampton Institute singers in the Jubilee-singing landscape. By the early twentieth century, spirituals formed a major stream of American vernacular music, due in part to the visibility of the Fisk Jubilee singers. Near-annual editions of Jubilee Songs sold over 130,000 copies into the early twentieth century. Its solo and four-part a cappella settings popularized songs such as "Swing Low, Sweet Chariot," "Roll, Jordan, Roll," and "Go Down, Moses."
Featured in Sounding Spirit as a watershed publication marking the transition of spirituals from oral tradition to a print-based, mass cultural phenomenon, The Story of the Jubilee Singers with their Songs documents a pivotal turn in southern sacred music. Foundational to the American popular music landscape, spirituals emerged as a form of black cultural expression in the antebellum South before their adaptation to a performance context. The critical digital and print editions of The Story of the Jubilee Singers with their Songs will provide opportunity for rich engagement with this landmark text and its communities of use that span colorlines, class markers, and geographic boundaries.
Class, Choir, and Congregation
Class, Choir, and Congregation (1888)
Edited by Kevin D. Kehrberg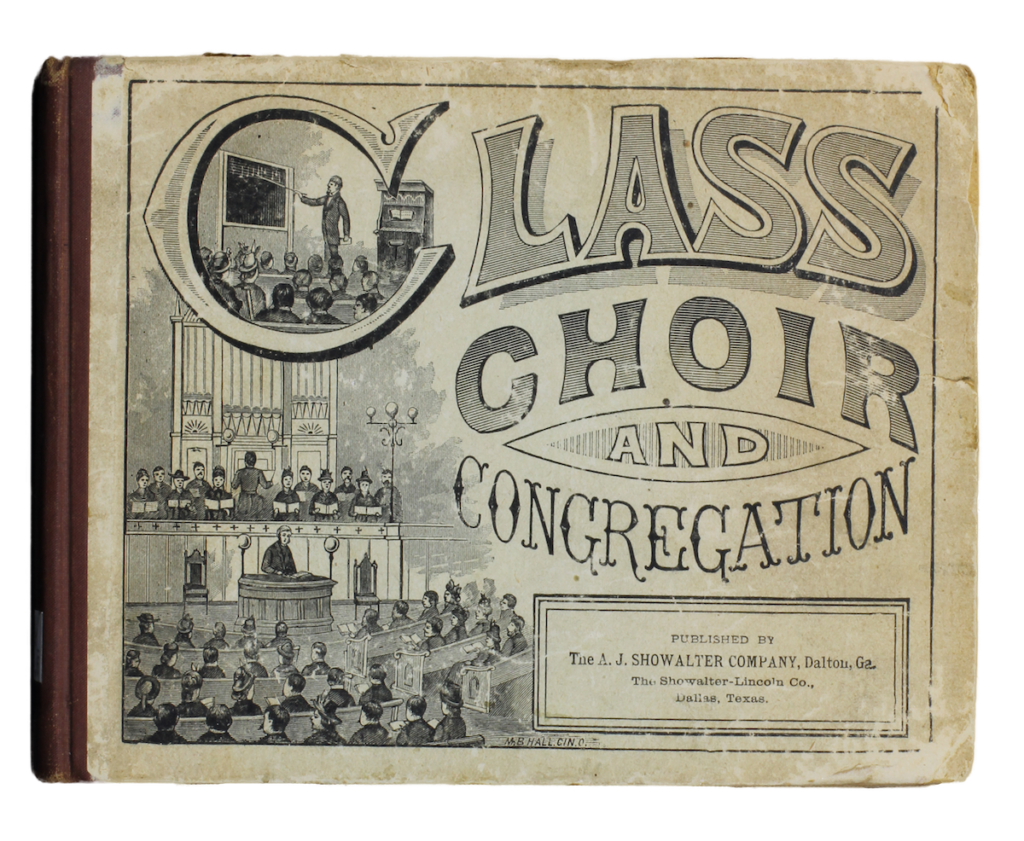 Class, Choir, and Congregation (1888) marks the transition from early nineteenth-century dispersed-harmony shape-note books to the gospel songbooks popular in the early decades of the twentieth century. A commercial success, Class, Choir, and Congregation sold 400,000 copies during its first twenty-five years in print. The text's publication paralleled watershed moments in the history of both the southern and broader United States during the Gilded Age, including backlash over Reconstruction, railroad expansion and industrialization, the shifting economic and sectional identities of the New South, and the emerging Social Gospel movement. Editor A. J. Showalter of Dalton, Georgia, championed gospel music's radical transformation in form, content, and context. His eponymous music publishing company sold millions of songbooks that pioneered the softbound, octavo-sized, annual new book publication format. These became a significant aspect of cultural life for Protestant, working-class, and predominantly white singing communities in the rural South as they negotiated impending aspects of modernity and navigated racial, social, religious, and political upheaval. Class, Choir, and Congregation and other Showalter publications later influenced gospel's transformation from a practice driven by singing schools, convention networks, and music education to one buoyed by traveling quartets and radio shows.
Featured in Sounding Spirit as a prime example of the transitional era of early gospel music, Class, Choir, and Congregation demonstrates how texts both created and responded to white users' negotiation of race, place, religion, and culture in an emergent modern context. The source of classic gospel hymns such as "Leaning on the Everlasting Arms" and "One by One We'll All Be Gathered Home" that remain popular among white, black, and Native American congregations from a variety of denominations, Class, Choir, and Congregation also demonstrates the intersections of traditions and singers often represented as discrete.
Soul Echoes No. 2
Soul Echoes No. 2 (1909)
Co-edited by Emmett G. Price III and Horace Maxile, Jr.
With Donté Ford, Joslyn Henderson, and Rylan Harris
Soul Echoes: A Collection of Songs for Religious Meetings, No. 2 was published by the Soul Echoes Publishing Company (Philadelphia, PA) in 1909. Edited and compiled by Bishop J. S. Caldwell, D. D.; Bishop L. J. Coppin, D. D.; Bishop G. L. Blackwell, D. D.; and Rev. C. A. Tindley, D. D., Soul Echoes was a joint project of the African Methodist Episcopal (AME) and African Methodist Episcopal Zion (AMEZ) denominations. Of the fifty-one songs assembled within this collection, a great majority are attributed to Rev. Charles Albert Tindley. A number of these selections remain treasured repertoire sung within Black Churches today, including "We'll Understand It Better By and By," "Some Day," "The Storm is Passing Over," "Stand By Me," and the great Civil Rights Movement anthem, "We Shall Overcome"–"I'll Overcome Some Day."
Featured in Sounding Spirit to highlight an important period in United States and African American history that serves as a precursor to the Negro Renaissance via the Black Church, Soul Echoes is vital to our understanding of both the historic and contemporary Black Christian Experience. This largely forgotten text was one of the most important songbooks for religious gatherings both in the South and the Atlantic coast. This edition will chart that influence and examine and contextualize the work of Tindley, who overwhelmingly influenced Soul Echoes and whose legacy as a pioneering composer of Black gospel music remains underappreciated. Pioneering a unique mentoring model to invite intergenerational participation in this scholarly undertaking, the Soul Echoes edition will offer insights into the text's role in shaping Black Church music and experience.
Sacred Tunes and Hymns
Sacred Tunes and Hymns (1913)
Edited by Jesse P. Karlsberg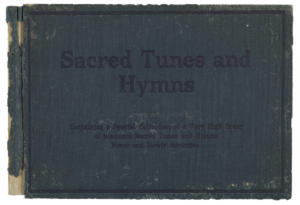 Sacred Tunes and Hymns (1913) is a little-known yet significant shape-note tunebook that occupies a peculiar location between music genres and formats associated with the Sacred Harp tradition and congregational song. Compiled by "author and publisher" Joseph Stephen James (1849–1931) and music editor Seaborn McDaniel Denson (1854–1936), Sacred Tunes and Hymns (re)introduced a corpus of eighteenth- and nineteenth-century hymnody favored by networks of white and Black rural southerners and associated with The Sacred Harp tunebook, a seminal shape-note tunebook first published in 1844, to white churches in modernizing Atlanta. In 1913, James had just completed editing Original Sacred Harp (1911), the most widely adopted of competing early twentieth-century editions of The Sacred Harp. James and Denson intended Sacred Tunes and Hymns as a companion to Original Sacred Harp. In contrast to Sacred Harp's singing convention setting in which Original Sacred Harp found favor, James imagined "churches or other worshipping [sic] assemblies" as the primary audience for the companion book. In an effort to reach mainline denominational congregations, James and Denson experimented with deviations from and alternatives to the nineteenth-century format and genre mix that their Original Sacred Harp had emulated. The 190-page tunebook features 130 songs organized by religious subject and adopts The Sacred Harp's four shape-note system. Unusually, the tunebook pages pair the four-part vocal score with keyboard reduction.
Sacred Tunes and Hymns refracts its compilers' motivations through its unique bibliographic form and wide ranging contents. The book unsettles a contemporary scholarly consensus among musicologists and hymnologists around genre boundaries in vernacular sacred music. In addition to engaging this scholarly audience, the Sacred Tunes and Hymns edition will be welcomed by singers familiar with the book's makers who will be surprised by its unconventional format and song selection. Editing this unique work will offer significant insights into contested and shifting southern identities shaped by whiteness, Christianity, and modernity as they evolved at the intersection of genre and format at the turn of the twentieth century.