The Sounding Spirit Collaborative engages sacred music from a dynamic era of American history. We make accessible and interpret historical sacred vernacular songbooks printed across territories and states spanning the southern United States from 1850 to 1925. Our ongoing scholarly edition and digital library work leverages collaborations between scholars, practitioners, librarians, and technologists to bring interdisciplinary, multi-modal expertise to the study and dissemination of these music books. These collaborations invite both scholarly and confessional reconsiderations of the role of sacred song in the lived experience of diverse communities. Working with texts and tunes often marginalized in music history, singers and scholars join Sounding Spirit in claiming a more diverse canon of southern vernacular sacred music.
Vernacular Sacred Songbooks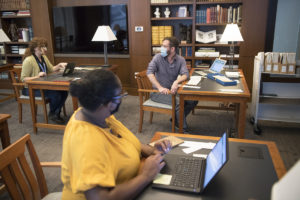 Sounding Spirit's research and teaching demonstrates the centrality of music books to the genres and communities that continue to shape America's musical landscape. The collaborative's digital collections and scholarly editions include important gospel songbooks, spiritual collections, shape-note songbooks, and denominational hymnals. Sounding Spirit foregrounds southern vernacular sacred songbooks published between 1850 and 1925. These works document the primacy of music books to the dynamic encounters among Black, white, and Native populations navigating modernizing forces across the US South and beyond.
Southern: Sounding Spirit conceives of the US South as a constructed and multifaceted geography imbricated in histories where race, place, religion, and modernity shape the politics of both region and nation making. In addition to the states of the confederacy, our conception of the South includes borderlands and geographies diasporically connected to the southeastern United States by the large-scale migrations of Indigenous, Black, and white southerners.
Vernacular: Sounding Spirit uses the term vernacular to characterize the publishing of music books in our corpus as a local, functional, or native activity. These publishing activities, as well as teaching and convening modes associated with southern sacred song, refract experiences and methods from vantage points both distinct from and in conversation with centralized and elite structures.
Songbook: Sounding Spirit examines books compiling hymns for singing published in the late nineteenth- and early twentieth-century South. These works include a wide variety of formats, including both hymn texts set to music and text-only hymnals, and were typically compilations, rather than single-authored texts. We describe these works as songbooks, adopting a term to describe several genres of sacred music book publication, to emphasize that these books were used in a range of sacred and social settings beyond the congregation.
1850–1925: Sounding Spirit adopts this seventy-five year period to document how publishing practices during this time period facilitated a unique proliferation of book formats to accommodate the emergence of vital new sacred music genres. Sacred music books published prior to 1850 have received outsize scholarly attention and have already largely been digitized. Copyright restrictions currently restrict freely disseminating most works published after 1925.
Current Initiatives
Sounding Spirit digitizes, publishes, and interprets songbooks foundational to a robust understanding of diverse sacred music histories and practices. Ongoing scholarly edition and digital library initiatives pair printed music of the past with digital innovation.
Our series of scholarly editions publishes new annotated facsimile editions of otherwise inaccessible music books both in print and in open access digital form.
Our digital library organizes open access thematic collections of digitized historical songbooks featuring robust metadata and accessible written entries.
Our teaching collaborations invite colleagues and their students to contribute to the editorial work of the digital library, modeling a public humanities approach.
Our editions and digital library are flagship projects of the Readux platform that facilitates browsing, annotating, and publishing with digitized books.
Future Phases
Sounding Spirit understands sacred songbooks as pathways to multiple pasts, diverse presents, and emergent futures. Next phases of the collaborative include programmatic work with scholarly and practitioner communities, expansion and open access publication of pilot pedagogical materials, and a series of convenings that center rich engagement with sacred music texts and the communities in which they remain significant.
Support
Supported by the National Endowment for the Humanities' Scholarly Editions and Translations and Humanities Collections and Reference Resources programs, the Sounding Spirit Collaborative is an initiative of Emory University's Center for Digital Scholarship. Sounding Spirit's scholarly editions are co-published by ECDS and the University of North Carolina Press. Published digitally using Readux, the initiative's editions and collections make these songbooks' rich content readily accessible to public, practitioner, and scholarly audiences. Sounding Spirit's digital library features music books from libraries and archives housed at seven partner institutions.