Sounding Spirit publishes and digitizes historic sacred songbooks to make accessible the texts that mediate race, place, and religion in American music history and culture. A project that marries printed music of the past with digital innovation, Sounding Spirit convenes scholars, practitioners, and technologists to publish annotated facsimile editions and digitize collections of sacred vernacular songbooks. In addition to publishing new print editions of otherwise inaccessible texts important to the politics, place, and culture of American sacred music, Sounding Spirit leverages the Readux platform to make these songbooks freely accessible on the web. With texts and tunebooks perceived as peripheral to American music history in hand or on screen, singers and scholars join Sounding Spirit in engaging a more diverse canon of southern vernacular sacred music. Sounding Spirit's annotated editions and digital library collections demonstrate the important role of texts for the genres and communities that shape the American musical landscape.
Sounding Spirits, Documenting Texts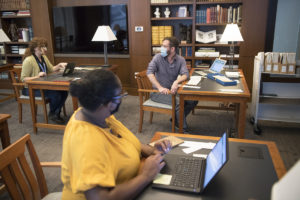 Sounding Spirit's research and publishing foregrounds southern vernacular sacred songbooks published between 1850 and 1925. The research lab develops digital collections of significant yet inaccessible books from this time and place, and scholarly editions of important gospel, spirituals, and shape-note songbooks. These works and collections illustrate the primacy of texts to the dynamic encounters among white, Black, and Native communities navigating modernizing forces across the US South and beyond. Current initiatives of the Sounding Spirit research lab center publishing and digitizing texts foundational to a robust understanding of diverse sacred music histories and practices. Future phases of work will focus on scholarly and practitioner engagement with these texts and the many communities in which they remain significant artifacts of religious practice and meaning making.
Supported by the National Endowment for the Humanities' Scholarly Editions and Translations and Humanities Collections and Reference Resources programs, Sounding Spirit is an initiative of Emory University's Center for Digital Scholarship. Sounding Spirit's scholarly editions are co-published by ECDS and the University of North Carolina Press. Published digitally using Readux, the initiative's editions and collections make these songbooks' rich content readily accessible to both public, practitioner, and scholarly audiences.
Meet the Editor-in-Chief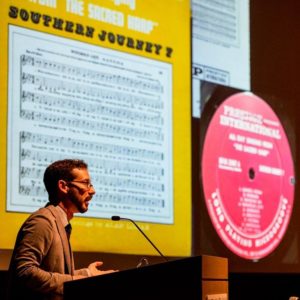 Project director Jesse P. Karlsberg began developing Sounding Spirit as a first-year PhD student in Emory University's interdisciplinary Institute for the Liberal Arts. While working collaboratively with the Emory Center for Digital Scholarship and Pitts Theology Library to commemorate the centenary of the 1911 publication of Original Sacred Harp, Karlsberg first identified the under-appreciation and inaccessibility of significant sacred songbooks. Karlsberg proposed the Readux platform to facilitate access to and research and publishing with digitized books from diverse archival locations. Over the course of his career, Karlsberg's research has promoted engagement with influential, yet overlooked, texts of American hymnody, with a particular interest in the broad cultural impact of southern vernacular sacred music and its diaspora.
Today, Karlsberg oversees the Sounding Spirit scholarly edition and digital library projects and serves as product owner of Readux. In addition to his robust research portfolio on race and place in vernacular American sacred music, Karlsberg brings twenty years of experience as a practitioner of shape-note singing to these roles. Karlsberg entered the shape-note singing world as an undergraduate music major and is today an internationally recognized singer, teacher, composer, and songbook editor in the Sacred Harp tradition.